EDMOND ROUND UP CLUB
EDMOND JR. RODEO MEETING
Thursday, August 11th @ 7:00 pm
Edmond Community Center
28th East Main Street, room 222 (upstairs)
LAST EDMOND JR. RODEO BEFORE FINALS!
Friday, August 12, 2016
Saturday, August 13, 2016
August 5th – online entries open
August 8th – call in entries open from 6-9 pm
August 8th – all pre-entries close at 9 pm
50th ANNIVERSARY T-SHIRTS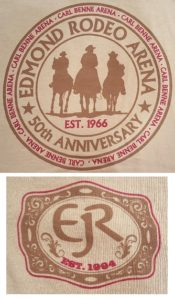 Don't forget to purchase your 50th Anniversary T-Shirt!
The 50th Anniversary T-Shirt can be worn in place of a long sleeve shirt for cowboy attire this season, however it must be a 50th Anniversary T-Shirt.
Reduced Prices
$10.00  S-XL
$12.00  2x
*All t-shirt sale proceeds go to help with purchasing year-end awards
RAFFLE TICKETS
Don't forget to purchase raffle tickets, we have lots of donated items to raffle off at the Finals rodeo.  All ticket sales are helping purchase year-end awards, so the more tickets that are purchased the better prizes we can buy!